Berbers – the Masters of Abstraction
The fascination with oriental carpets in the western world may go as far back as the 15th-16th century. Rugs from Anatolia and the Caucasus appeared in paintings by Holbein, Lotto and other notable painters of the Renaissance period.
Moroccan rugs did not make it onto the European market until much later; it was Le Corbusier who first used the works of Berber nomads in some of his most prestigious designs. Today, Berber rugs are again the latest fashion in home décor.
There are in very generic terms, two types of Moroccan rug: Rabat rugs coming out of ateliers and small shops in Moroccan urban centres; and tribal rugs which are made by various Berber and Arab tribes scattered across the large territory of the Atlas and Siroua Mountains.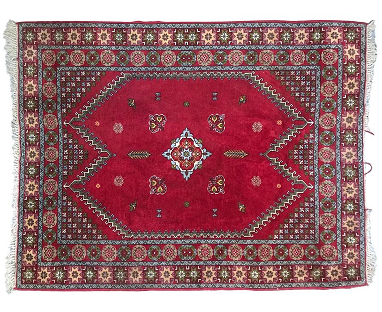 The first bear the marks of heavy Anatolian and Mamluk influence; they typically made and Ghiordes knot and feature geometric designs; the latter are nearly always executed in a unique Berber knot and display a rich array of abstract designs and often very limited range of colors.
It is Berber rugs however that appealed to Le Courbousier more and that are now so often the choice of contemporary interior decorators.
The works of the Zeomour tribe of High Atlas nomads are often a common feature in more conservative home décor design; they are characterized by bold colours and more often than not, deep burgundy red obtained from the concheal.
Boujaad carpets made by Berber women in a small region in Haouz between the Middle Atlas and the Atlantic ocean have also been popular in modern homes. Inspired by geometric patterns rooted in Anatolian weaving arts, Boujaad rugs display bolder colours (rich sunset reds, golden yellows) utilizing solely organic dyes obtained from a handful of regionally available plants.
Minimalistic in design and rather mono-chromatic carpets made by the Middle Atlas peoples Beni Ouarain seem however to be the number one choice of floor covering for most moder and ultra-modern home décor designers.
Also, the High Atlas Azilal carpet are often used as a foundation for modern living space design. Azilal carpets too tend to be simplistic and based solely on black (sometimes brown) primitive drawings against the off-white natural wool colour.

When it comes to the knowledge of the Moroccan rugs, and particularly the tribal ones; much is owed to the United States Naval Forces admiral named Albert Parker Niblack. Niblac collected some of the most interesting Moroccan tribal artefacts and donated his entire collection to the Indianapolis Metropolitan Museum upon his death.
Studies of the unique textile art of the north African tribes would not be possible without Niblack's contribution and the role played since by Indianapolis Metropolitan Museum.
All Moroccan rugs are a great investment; they continue to retain excellent value and are both attractive, aesthetically pleasing and very fashionable.
A.G.
Our recommendations:
Berber Margoum (kilim)
Berber Zemmour Carpet
Beni Mguild Margoum (kilim)
Berber Bouchrouite Runner
Ouaouzquite Berber Rug
Please follow and like us:
Please follow and like us: