Heriz and Ahar rugs are nearly indistinguishable in design. Both in fact are frequently sold as Heriz, a 'bigger' name on the market; and only a handful of merchants may be able to tell them apart.
Upon a closer analysis, however, Heriz and Ahar rugs display characteristics of two different carpet design groups.
Both villages are situated in Iran's northwestern province of East Azerbaijan. Rugs are produced here in village workshops and in rural communities, often, by nomadic tribes.
Outside of the specific village, the geographic provenance becomes irrelevant; it is the designs that matters.
Both Ahar and Heriz rugs are made in the Iran's Sarab province; some workshops and definitely rural artisans may produce rugs in both geometric and rectilinear designs.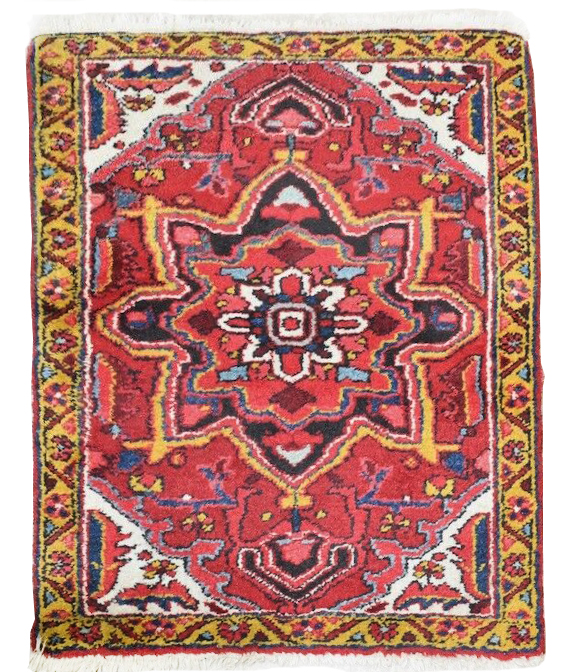 However, as far as the contemprary productions is concern, Ahar rug medallions appear to be more curvilinear while Heriz ones are more geometric.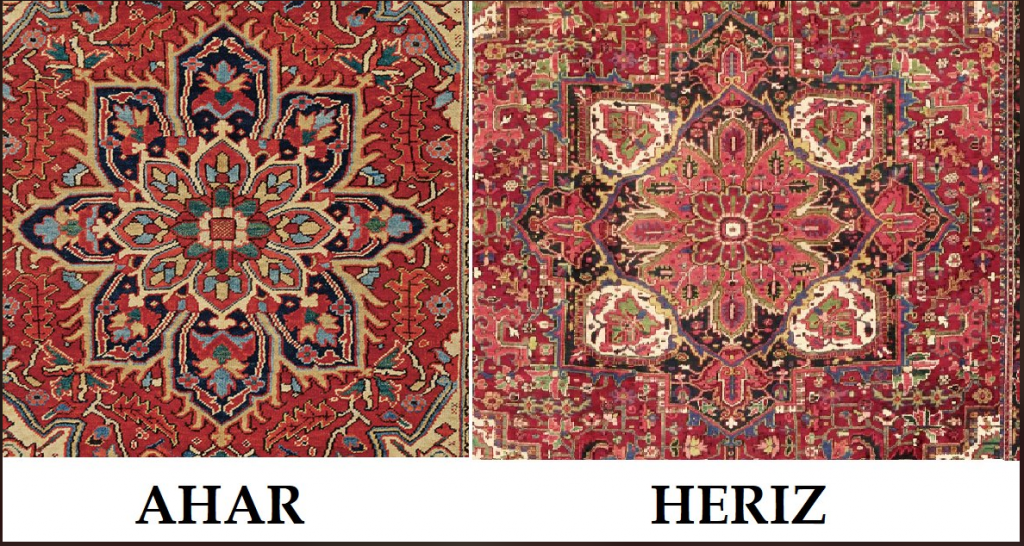 Most Heriz rugs follow the 'Medallion and Corners' design pattern which is often reffered to as 'Medallion and Niche'. The pond, or field that sets the background for the central medallion constitutes the so-called double or reversed mihrab.
This concept cannot be appied to Ahar rugs wherein the idea of the niche is lost in the curvilinearity of the field elements.
It seems that the Ahar rugs retained the older patterns present in antique Serapi rugs; while Heriz rugs underwent a change toward more geometric forms.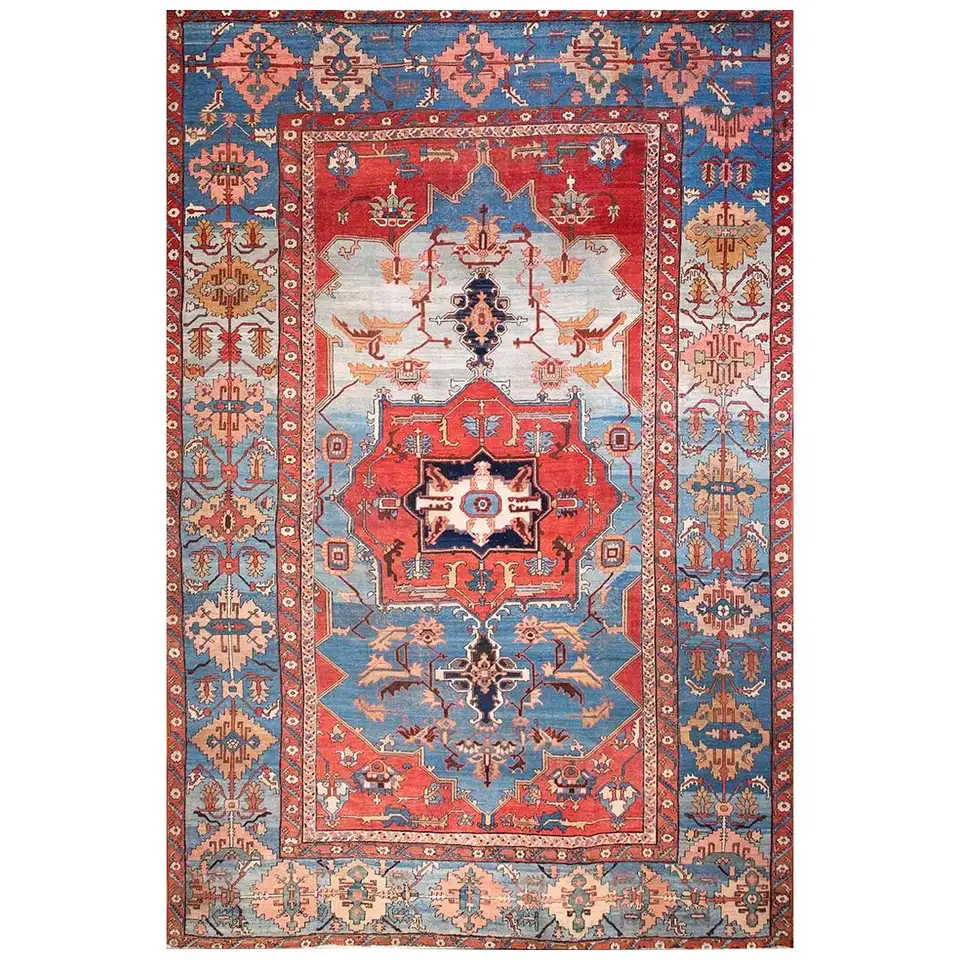 Such a change may have been dictated by the market demand for more tribal geometric patterns as opposed to floral and arabesque designs seen in other traditional Persian carpets.
The end result of this transition is precisely what made the scholars separate the two seemingly identical carpets and categorize them as belonging to different carpet groups.
Heriz rugs with their geometric medallions are viewed as belonging to the cross-star carpet group while Ahar rugs, which retained their traditional curvilinearity, are considered to be part of the star-Ushak carpet group.
The cross-star carpet group is rooted in the early Christian art (see the illustrations below) while the star-Ushak carpet group may be traced back to Asia Minor (Anatolia).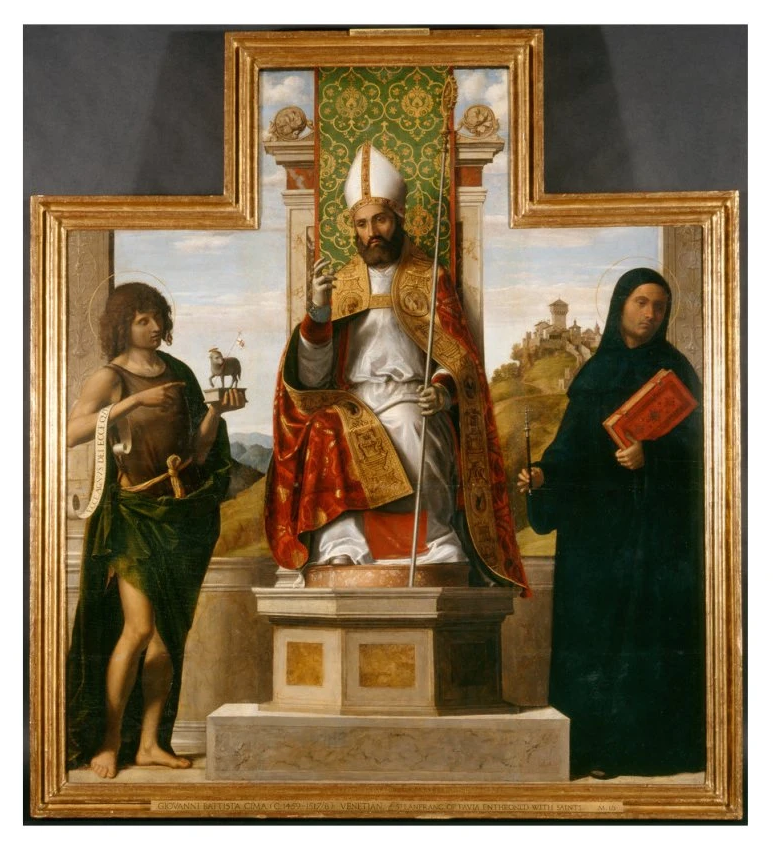 In conclusion, 20th century Heriz rugs, in their staple design, represent a sharp departure from the traditions of the region. 'The designs of old Heriz rugs differ radically from those on new pieces.' (Oriental Rugs Volume 2 PERSIAN, Erich Ascchenbrenner, Antique Collectors' Clun , Suffolk 1990, p.49)
Ahar rugs, on the other hand, remain more faithful to patterns found in older pieces e.g. antique Serapi rugs.
A.G.
Please follow and like us: